Darjeeling is a travellers delight and is frequented by tourists year after year. Apart from the pleasant weather and scenic beauty, there is a lot to see and do in Darjeeling.
Local Tourists Spot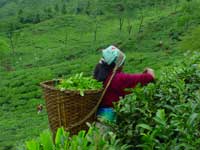 Happy Valley Tea Garden


Situated 1 km away from the town of Darjeeling, the Happy Valley Tea Garden is located on the Lebong Carter Road and provides a peaceful and relaxing getaway from the hustle and bustle of tourist-y Darjeeling.
The Darjeeling Himalayan Railway


Fun & Entertainment Also known as the "Toy Train", the Darjeeling Himalayan Railway plies between New Jalpaiguri and Darjeeling and is a narrow gauge railway
Tiger Hill


Situated at an altitude of 2590 meters, Tiger Hill is located 11 km from Darjeeling and presents a spectacular view of Mount Everest and Kanchenjunga.
Dhoom Gompa


Darjeeling About 8 kms from Darjeeling is the Dhoom Gompa. Here a very beautiful statue of the Maitrayie Buddha is established. The Monastery has also preserved some of the rare handwritten Buddhist manuscripts.
Obeservatory Hill


The oldest site in Darjeeling is Observatory Hill, known locally as "Makal-Babu-Ko-Thaan". According to legend, a Red Hat Buddhist Monastery called Dorje Ling, or 'place of the Thunderbolt', stood at this very spot. The Nepalis destroyed it in the 19th century. The Shivas and Buddhists share the temple that stands there today.
Himalayan Mountaineering Institute


A spot not to be missed is the Himalayan Mountaineering Institute created by the late Tenzing Norgay, the Sherpa who conquered Mt Everest with Sir Edmund Hillary on 29 May 1953.
Tibetan Refuge Camp


The area in and around Darjeeling is a treasure chest of interesting destinations. The Tibetan Refugee self-help scheme produces traditional artifacts, jewellery and carpets for tourist consumption.
Lloyd's Botanical Garden


Lloyd's Botanical Garden displays a fine collection of Himalayan fauna for those with an interest, and for punters there is horseracing at Lebong, the smallest and highest racecourse in the world.
Kanchenjunga View


From Darjeeling one can have the best, uninterrupted view of the worlds third highest peak. Bhan Bhakta Sarani provides one of the enthralling views of these snow capped peaks. The Chowrasta also gives you a good sight to the Kanchenjunga peak.